Welcome to the 2019-20 school year at Adarsh Vidyalaya, Mowa. Our school holds a fond place in the hearts of our students, parents and teachers. It is our goal that children of Adarsh acquire love of learning that will sustain them well into their future. This is accomplished by the rigor of our curriculum, compiled with our caring teachers and supportiveparents who all work together.
Each school year offers you an opportunity to learn moreabout yourself and the world around you. The amount of happiness and success you achieve in this pursuit is largely determined by how much effort you put forth.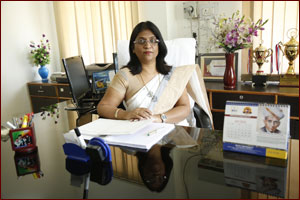 Mrs. Sabita Chaturvedi
At adarsh vidyalaya, we share a set of beliefs that call upon everyone to make the best use of their talents. Central to our belief system, is trying to master the Character goals of the 3Rs (Respect, Recognition and Responsibility).
In closing let me welcome, you to Adarsh Vidyalaya, Mowa. Help to keep the traditions of an Adarshian alive by working hard, supporting one another by being courteous and caring.
Wishing you the best year of your life.
Principal
ADARSH VIDYALAYA, MOWA