He started his career with Shri Balaji Vidya Mandir as Head of department, Physics and served for over 6 years. Subsequently, he was the Co-ordinator at Shri Balaji Vidya Mandir for 4 years. From May 2002 to he was appointed as lecturer In Physics, relocated at Adarsh Vidyalaya, Devendra Nagar, Raipur. Anil Pillai is an experienced educator with over 25 years of experience in the field of education.
From May 2009 to May 2011, he served the Adarsh Vidyalaya, Devendra Nagar, as Vice-Principal. From June 2011 to May 2013, he headed Adarsh Vidyalaya, Devendra Nagar, as Principal, for 2 years. He was transferred to Adarsh Vidyalaya, Tatibandh in 2013, under the same chair of repute as on date. He is an well-expressed speaker, instructor and has been recurrently invited to speak at a variety of high-flying instructive conferences. His repertoire includes an assortment of curricula. Apart from this, he has edited Physics Comprehensive Books and he is a qualified analyst.

Other programs promoted by him during his various coursework are the Interact Club,an derivative of the Rotary club. He is a member of Chhattisgarh English Club. Have actively participated in Principal's meet at Colombo, Srilanka in the year 2015. He is a trained Ranger for Bharat Scouts and Guide.
He was awarded and felicitated as the best teacher thrice in his career. He has been a board member, conducting interviews for appointment of teachers at various schools in and out of Raipur.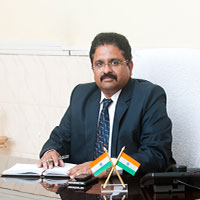 Mr. Anil Pillai